Picking The longest lasting flower Is the obvious choice
To extend your flower budget
Chrysanthemums are an ideal flower choice because they are a beautiful flower that is also very budget friendly. Chrysanthemums come in a variety of colors and sizes, which allows you to choose the perfect type of flower for any occasion. Additionally, they are quite hardy and can last quite a while in a vase, making them a great choice for those looking for long lasting flowers to make your budget go farther.
The Beauty of Chrysanthemums
Cut chrysanthemums in a vase are like a bouquet of sunshine, radiating warmth and joy into a room. They are economical and vibrant flowers making them an ideal choice for the home, bringing life, beauty and a natural serenity to any room. They are readily available at most grocery and big box stores and will brighten any room with its cheerful presence at a budget friendly price.
The Meaning of Chrysanthemums
Chrysanthemums symbolically represent wealth, prosperity and longevity in the Chinese culture. In Chinese mythology, chrysanthemums are said to represent the immortality of life, and they are often presented as a symbol of long life and good luck. The flower is also associated with autumn, which is traditionally regarded as a season of abundance and harvest, making it an apt symbol for wealth and prosperity.
But if chrysanthemums represent wealth, prosperity and longevity as a flower, what does it say about your lifestyle if you let them die too soon?
How Long Chrysanthemums Live
While most cut flowers last from 4-7 days, chrysanthemums will usually last about 9 days making them a great long lasting flower choice. But 9 days is just the beginning of what you can really expect from this lovely flower if you treat it right.
Our testing of Flower Boosters on chrysanthemums gets exceptional results from this flower. While our overall average for flower longevity with Flower Boosters is 23 days, chrysanthemums have lived up to 29 days!
Chrysanthemum Costs
In my area at least, chrysanthemums are an incredible deal. I've written before about the benefits of Costco Flowers, but I've also gotten great deals on chrysanthemums at my local grocery store too.
Chrysanthemums are usually $10 at my local Costco. If you can get these flowers to last almost an entire month, it can make this the best bargain in your shopping cart.
Chrysanthemum average 9 days at $10 = $1.11 a day
Chrysanthemum $10 + Flower Boosters Treatment $3.93 average 25 days = 55 cents a day!
You can literally cut your flower costs in half just by choosing long lasting flowers and treating them right!
The Best Cut Flowers
I can't think of anything else I buy for my home that gives me more pleasure for less money than fresh cut flowers. Chrysanthemums are the best cut flower choice to add to your weekly shopping list because they are relatively easy to care for and come in a wide range of colors and sizes to complement any room, and are very budget friendly.  Additionally, chrysanthemums symbolize luck, prosperity and joy, making them a perfect choice for brightening up a space and attract abundance into your life.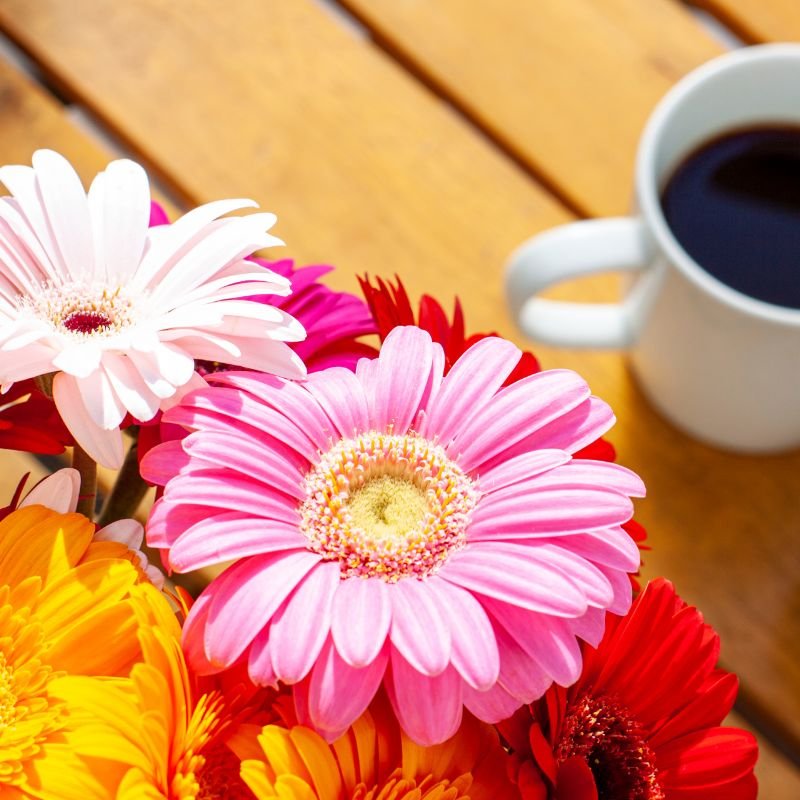 Make Cut Flowers Last Longer
Ordinary Plant Food Or Internet Recipes Won't Do it
Use Flower Boosters for the win.
Enhanced with caffeine, Flower Boosters gives your cut flowers an extra burst of energy and makes them live longer — and stronger – – than ever before.
Better than water alone, better than the free packets or internet folk recipes. Flower Boosters makes your cut flowers live their very best life!
Make Your Cut Flowers Live Longer & Stronger
Follow our blog to see how we extended this $10 bouquet more than 20 days.