Revolutionizing Floral Care
Beyond Fresh Cut Flower Packets
The world of floral care is evolving, and the days of simply dropping free fresh cut flower packets into your vase water are giving way to a new era of precision and excellence. At the forefront of this transformation is our product, Flower Boosters – a water additive that's redefining how you care for your blossoms. Say goodbye to vague instructions, mystery ingredients and wasteful practices, and say hello to a revolution in flower care.
Precise Measurements, Exceptional Results
Imagine buying an energy drink mix without clear instructions – pouring the powder into your glass, unsure of how much to add. The result? A taste that's either too diluted or overpowering. The same principle applies to your flowers. More isn't necessarily better; it's simply more. Overdosing on additives can harm your blooms and your budget. With Flower Boosters, we've introduced a new level of precision. No more guesswork – just precise measurements that ensure your flowers thrive without waste.
Bridging the Gap
At Flower Boosters, we believe in bridging the gap between simplicity and effectiveness. While value sized resealable pouch still offers convenience, it also goes farther to deliver exceptional results. Our vase water additive comes in a convenient container, and we provide you with the exact amount needed for every cup of water. No more wondering if you're overdoing it or skimping on care. It's a balance that ensures your blooms receive just the right treatment so they bloom better and last longer than ever before.
More than Just a Water Additive
Flower Boosters is completely new. Not a marketing ploy or rebranding, this formula was developed over an entire  year of testing and retesting until we found the optimal blend to make cut flowers bloom bigger and last longer than ever before. It's a commitment to your floral happiness. 
We understand that every bouquet is unique, and caring for them should be an art, not a guessing game. Our container is designed to last, providing you with enough product to service an average bouquet (like you buy at the grocery store) for up to 92 days. And Flower Boosters adapts to your needs. If you buy a larger bouquet or use a larger vase, we make sure you know exactly how to treat them for optimal health and happiness. 
Better Than Free Fresh Cut Flower Packets
Precision, Savings, and Brilliance
Our product isn't about pouring in more – it's about pouring in what's right. Flower Boosters not only ensures that your flowers receive the best care possible, but it also saves you money by preventing wastage. Imagine the satisfaction of knowing you're using just the right amount, maximizing your investment in every bouquet.
In a world where everyone is trying to get you spend more, we're trying to bring you savings! Flower Boosters stands as a beacon of innovation. We're rewriting the rules of flower care, moving beyond the limitations of "fresh cut flower packets to deliver a solution that's effective, economical, and elegant. Choose to embrace a new era in floral care – one where precision meets passion, and every blossom thrives as intended. Experience Flower Boosters and discover the joy of watching your flowers bloom brilliantly, every single time.
More About Flower Boosters Cut flower Preservative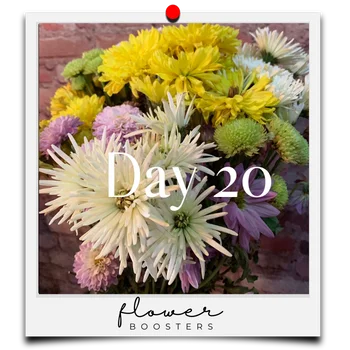 make cut flowers last longer
Ordinary Plant Food Or Internet Recipes Won't Do it
Use Flower Boosters for the win.
We hated it when our flowers died to fast. So we experimented with several formulas under we figured out a brand new way to extend the life of our flowers: caffeine.  
Flower Boosters gives your cut flowers an extra burst of energy and makes them live longer — and stronger – – than ever before.
Better than water alone, better than the free packets or DIY recipes. Flower Boosters makes your cut flowers live longer and bloom better!
Flower Boosters is also non-toxic using food grade preservatives that can be used to extend even edible flowers until you are ready to use them.
Make Your Cut Flowers Live Longer & Stronger