How Long Should Cut Flowers Last?
We'll break down by variety what you should expect from each type of cut flower so you know if you have a green thumb or a brown thumb
Are you someone who enjoys fresh cut flowers, but can't seem to keep them alive for very long? If so, you may have a brown thumb when it comes to taking care of them. On the other hand, some people seem to have a natural knack for keeping flowers looking beautiful and alive for a long time – they have a green thumb. In this blog post, we will explore the differences between having a brown thumb and a green thumb when it comes to fresh cut flowers.
The good news is you can make flowers last longer than you ever thought possible by following a few easy guidelines that take only a couple minutes a couple times a week! Really, in less than 5 minutes a week, you can make your flower budget go farther and get more beauty and value for your flower investment.
How Long Do Cut Flowers Usually Last In A Vase?
These are the average days of vase life for the most popular flower varieties sold in stores. 
1. Roses: 5-7 days
2. Carnations: 10-14 days
3. Daisies: 4-7 days
4. Lilies: 7-10 days
5. Sunflowers: 5-7 days
6. Tulips: 5-7 days
7. Orchids: 7-10 days
8. Gerbera Daisies: 7-10 days
9. Alstroemeria: 10-14 days
10. Baby's Breath: 7-10 days
11. Snapdragons: 5-7 days
12. Chrysanthemum: 7-10 days
14. Mixed bouquet: Vase life can vary depending on the mix of flowers, but typically 7-10 days.
The average vase life for different flowers varies depending on several factors. First there is the genetics of the flowers. How the stems are formed and how long they can take up water and nutrients is a genetic factor that lets some flowers naturally thrive as cut flowers better than others. But there is also other factors like the growing conditions, how far away they were grown and how well they can endure the travel entailed to get them to market. But most important may be how they are treated after they are harvested.
When any flower is cut from the roots you have cut off their supply of nutrients and water. Making sure your cut flowers are placed in fresh water that is enhanced with the nutrients they need to thrive will be critical in getting more from your flowers. How much more life can that mean? A lot. 
How Long Do Mums Last If You Have A Green Thumb?
While Chrysanthemums usually last 7-10 days, we got these to last an astounding 33 days with good care!
And it's not hard. What did we do? Every 3-4 days we gave them fresh water and added Flower Boosters to the water. We trimmed the ends to make sure they could take up the fresh water easily and placed them back in a clean vase. 
That's it. It took less then 3 minutes of maintenance 2x a week to get over a month out of this simple $10 bouquet from Costco.  
But it works for all kinds of flowers. 
How Long Does A Mixed Bouquet Last If You Have A Green Thumb?
While you should expect a regular mixed bouquet to last about 7-10 days on average, you can actually get a lot more value if you treat them right.  These flowers actually lasted a total of 20 days, but full disclosure, we did trim out some flowers that stared to die after day 16. 
We talk more about that in the another blog post you can find here. But the bottom line is it is not uncommon to have one (or two) flowers in a bouquet die faster than the others. There are a variety of reasons that we go into detail on in the other blog post, but they are factors that are largely out of your control that you should not attribute to your having a brown thumb. Sometimes when flowers die before their time its absolutely not your fault and those flowers should just be removed before they kill the whole bouquet faster. The process of removing dying flowers is called deadheading and we cover that in a blog post here. 
How Long Do Daisies Last If You Have A Green Thumb?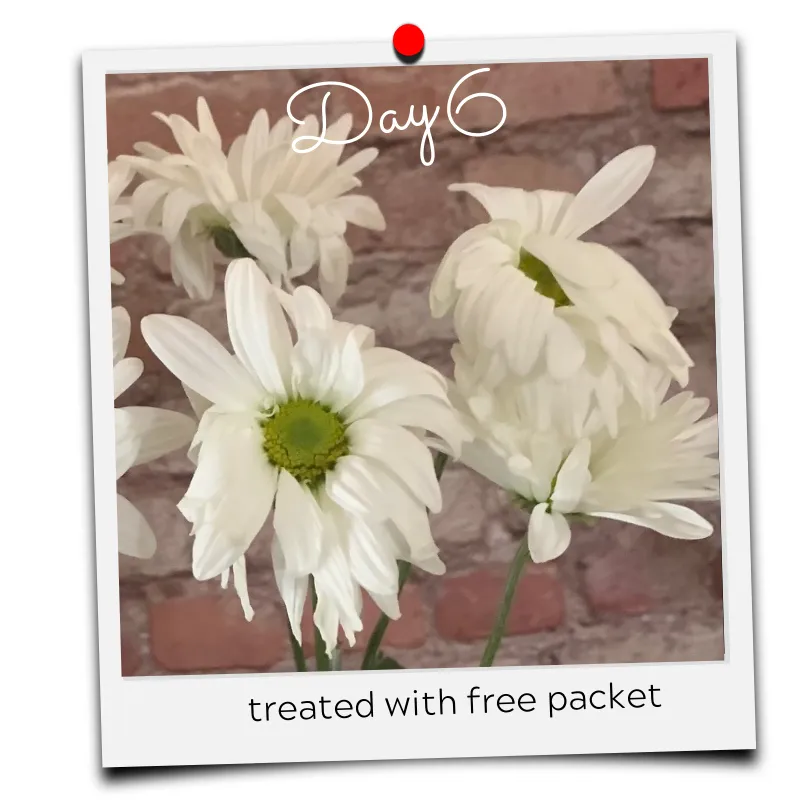 We treat all our tests fairly. I purchased a batch of formula used in the "free packets" you get with your flowers. I placed all the flowers in filtered water, changed the water every 3-4 days and trimmed the ends of the flowers before placing them in a clean vase with either the "free packet" formula or Flower Boosters. 
There was clearly a difference between the flowers treated with the "free packet" and Flower Boosters. But to be fair, each product was designed with a different purpose. 
The "free packet" formula is designed keep flowers suspended during transportation and storage. It is intended to make flowers look younger and undeveloped so when you buy them you appear to be getting fresh, young flowers. 
Flower boosters was created to make flowers develop bigger blooms and last longer feeding them with the nutrients they need to boost their vitality and make them appear lush and vibrant in your home. 
It would not make sense to treat flowers with Flower Boosters before or during transport because large blooming flowers could be damaged being transportation in full bloom.
Flower Boosters makes flowers look better AFTER you bring them home than the day you bought them home. No green thumb required.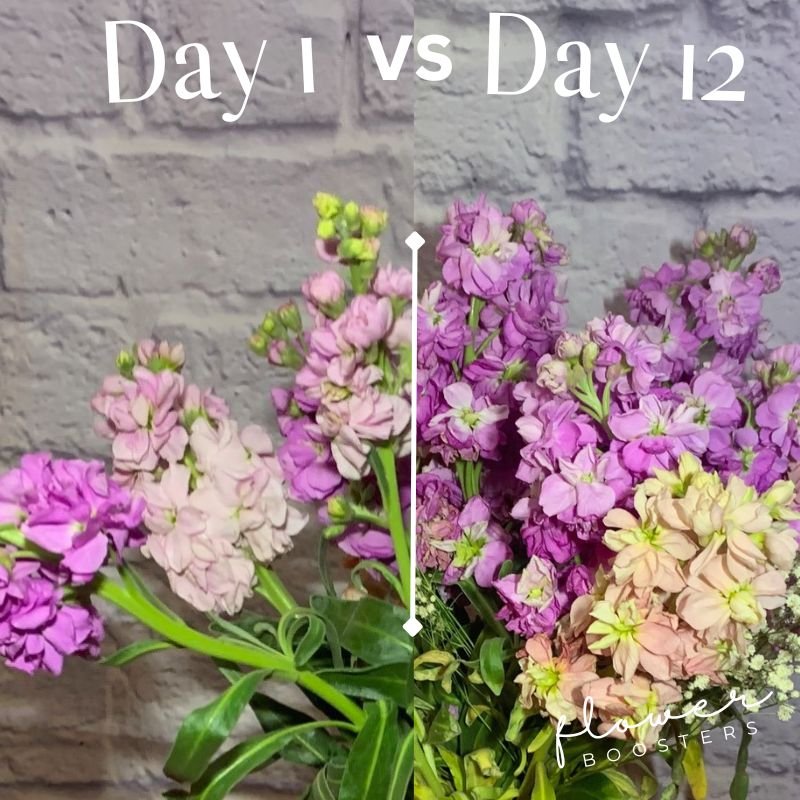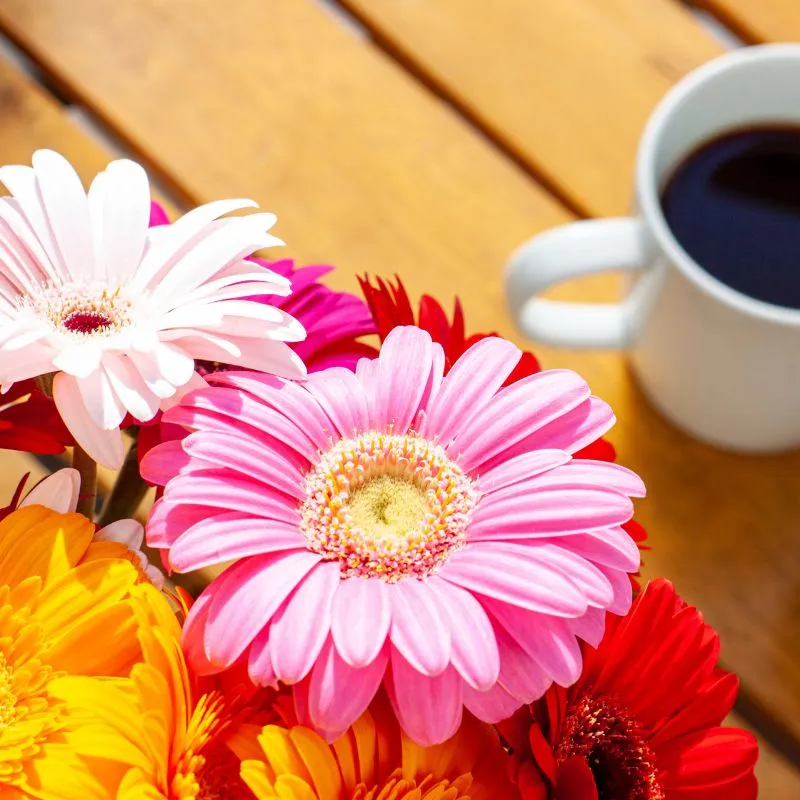 Want to Know How to make Cut Flowers Last Longer?
Give Your Flowers The
Boost Of Caffeine

They Crave
Ordinary Plant Food Or Internet Recipes Won't Do it
Use Flower Boosters for the win.
Enhanced with caffeine, Flower Boosters gives your cut flowers an extra burst of energy and makes them live longer — and stronger – – than ever before.
Better than water alone, better than the free packets or internet folk recipes. Flower Boosters makes your cut flowers live their very best life!
Make Your Cut Flowers Live Longer & Stronger