Reinvent Your Fresh Cut Flowers To Dried Flowers
Save Money And Get Add Beauty To Your Daily Life
Gardening is an incredibly rewarding and therapeutic hobby. The beauty of watching plants grow and blossom can be incredibly satisfying, and the bounty of fresh fruits and vegetables that can be harvested from a garden can be incredibly satisfying. 
But there is something truly special about the beauty of harvested flowers cut from the garden. Flowers cut from the garden are a unique and special way to bring the beauty of nature indoors. Whether they are cut to be enjoyed in the home or to be given away as gifts, flowers cut from the garden can be an incredibly meaningful gesture. They can be a reminder of the beauty of nature, and a way to bring a bit of the outdoors into one's home. 
When it comes to selecting the right flowers to cut from the garden, there are a few key considerations. The first is to pay attention to the season. Different flowers bloom at different times of the year, so be sure to look for flowers that are currently in bloom. 
Additionally, keep an eye out for any signs of disease or pests, as these can quickly ruin a flower's beauty. 
When selecting the flowers, it's also important to choose a variety that will last for a few days indoors. Some of the best choices for this are daisies, roses, and lilies, as they tend to last longer when cut from the garden. 
Roses are an obvious choice and will look beautiful in any bouquet. They come in a variety of colors and will last for several days.
Carnations and daisies are also good choices, as they hold their shape and color well.
If you're looking for something a little more unique, consider wildflowers like lupines, cornflowers, and poppies. These delicate and vibrant flowers will add a special touch to any bouquet.
It's also important to choose flowers that are in the process of blooming, as these will have the best chance of lasting a few days indoors. 
When cutting flowers from the garden, it's important to do so in the morning when the flowers are at their freshest. 
Additionally, be sure to use sharp scissors or shears to avoid crushing or tearing the flowers. You'll also want to cut the stems at an angle, as this will help them to better absorb water and last longer. 
Once you've cut the flowers, they should be placed in a vase of fresh, clean water as soon as possible. Fill the vase with enough water to completely submerge the stems bottoms in no more than a couple inches of water (submerging stems in too much water can rot the stems and make it impossible to take up more water) and add some flower food, which will help the flowers last longer. 
Make sure to change the water every few days and add more flower food to keep the flowers looking their best.
Flowers cut from the garden can be enjoyed in the home for days at a time and can also make beautiful and heartfelt gifts. 
They are a wonderful way to bring the beauty of nature indoors, and can help to brighten any room. So next time you're in the garden, be sure to take some time to cut a few flowers to enjoy in the home or to give away as gifts.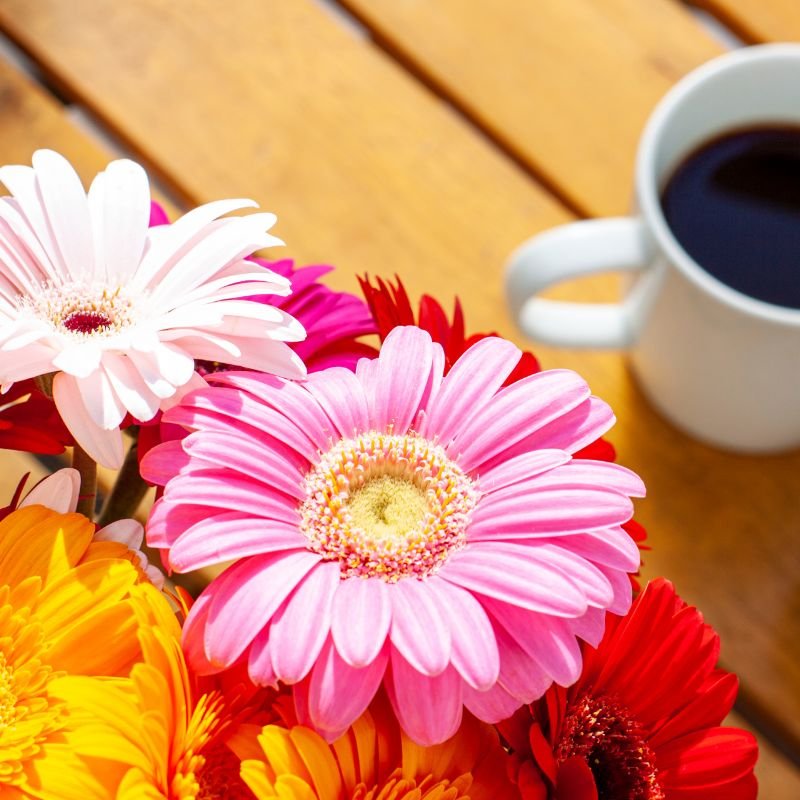 Want to Know How to make Cut Flowers Last Longer?
Give Your Flowers The
Boost Of Caffeine

They Crave
Ordinary Plant Food Or Internet Recipes Won't Do it
Use Flower Boosters for the win.
Enhanced with caffeine, Flower Boosters gives your cut flowers an extra burst of energy and makes them live longer — and stronger – – than ever before.
Better than water alone, better than the free packets or internet folk recipes. Flower Boosters makes your cut flowers live their very best life!
Make Your Cut Flowers Live Longer & Stronger