See How To
Keep Flower Freshness


2 Weeks Or More With Flower Boosters
Tired of cut flowers wilting after just a few days?
Watch our video to see how we energized these flowers, prolonging their freshness for 20 days!
Learn how giving cut flowers what they crave makes them last longer and bloom better than ever before.
But It didn't End On Day 20
Follow our blog post to see how we extended the life of this bouquet even farther.
No matter where your fresh cut flowers come from, it's disappointing when they die too soon.
Learn how to keep flowers fresh in water by following simple guidelines and using Flower Boosters.
Craving Flower Freshness?
How long do flowers last fresh?
The average life of a typical bouquet is 4-7 days.
Cut flowers die too quickly because they're being starved to death.
With Flower Boosters, you can:
Save money by not throwing flowers away prematurely.

Enjoy longer-lasting, vibrant blooms.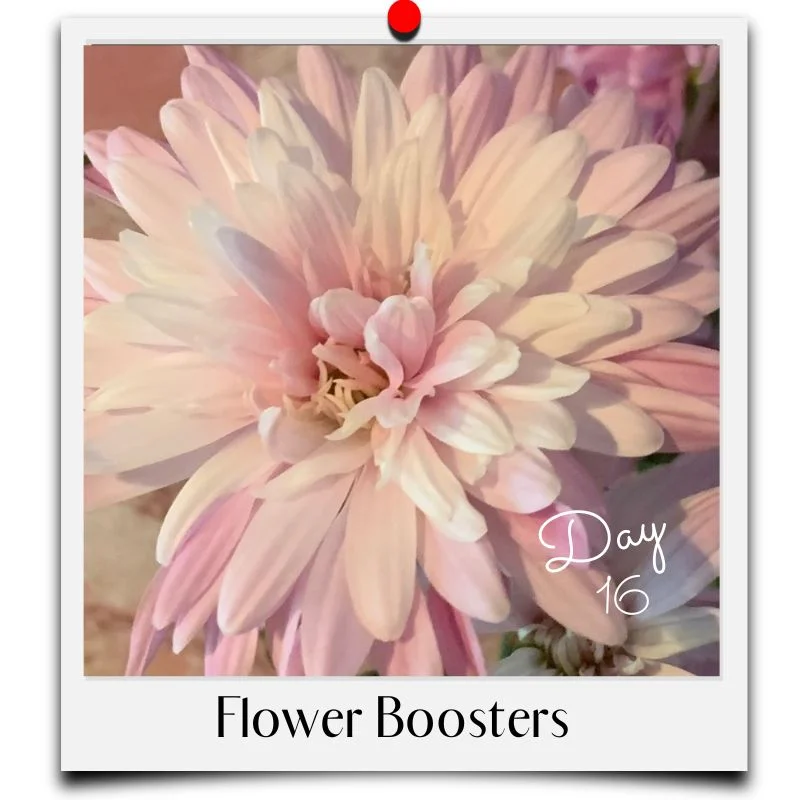 Keep Flowers Alive Longer
Flowers, like people, need to eat and drink. Most flowers are starved and thirsty.
Energize your cut flowers with Flower Boosters for proper hydration and long-lasting freshness.
Achieve the correct proportion of nutrition and hydration for fresh, vibrant flowers that last days or even weeks longer.
Ever Wonder What Those

FREE PACKETS


That Come With Flowers Really Do?
Watch This Time Lapse To Find Out…
One bouquet of flowers, divided equally: one half treated with the free packet, the other with Flower Boosters.
Free packet side showed a failure to thrive: flowers never fully opened and drooped by day 3.
Flower Boosters side remained strong and vibrant until day 20.
Selective pruning extended the bouquet's life for another 3 days.
Why Sugar Water or Bleach Water Don't Work
And DIY Internet Advice Can Kill Your Flowers Faster
The internet has lots of advice on how to increase flower freshness. The only problem: the internet can be really wrong and your flowers will pay the price.
Too much sugar can actually kill your cut flowers faster – it's called "failure to thrive" and you'll flowers will fall victim to it with too much – or too little — carbohydrates. 
flower food DIY without bleach
Bleach can help keep out bacteria – but too much hurts the flower quality. Asprin the wrong proportioni will make your flowers stems turn black and die in less time than if you had just stuck them in water alone! 
So many things go wrong. And the internet just doesn't care as long as they get your clicks.
But learning how to keep flowers fresh in water is actually easy — once you know what to do.