Can You Make A Decent Living In Florist Careers?
We'll Break down the Pros and Cons of working for, or owning, a flower Shop
According to surveys conducted by the Society of American Florists, the average flower shop employs 2.6 full–time employees and 2.1 part–time employees. The gross revenue of the average flower shop is estimated to be around $450,000 per year.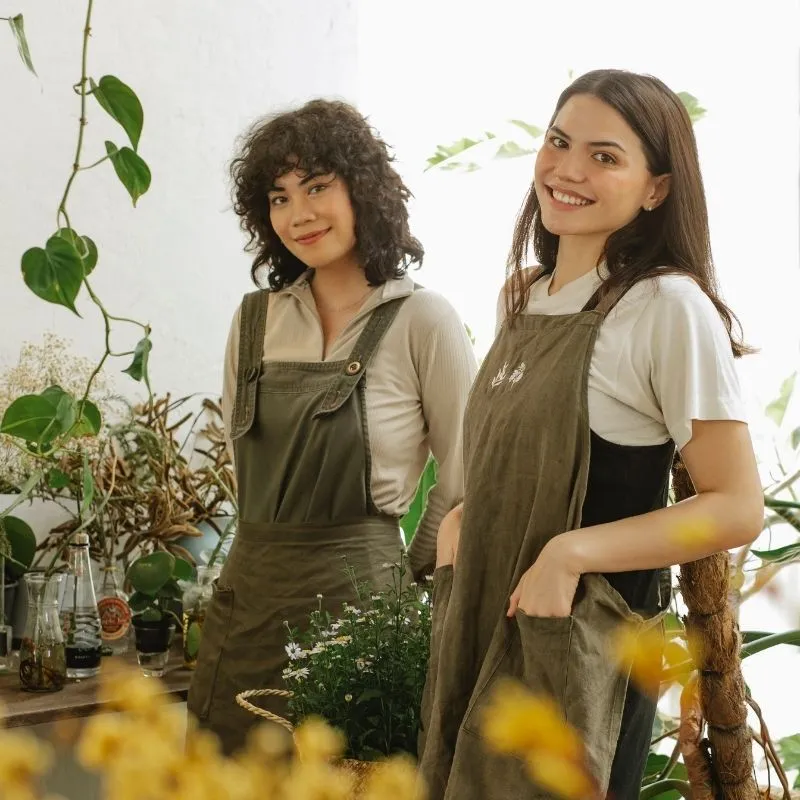 While they do not have data on operating margins, it can be assumed that they do not fare any better than other retailers in the USA like Target or Walmart that generally operate on less than 2% net profit (yeah, that's correct – they just make a lot of sales so that 2% can translate to millions in profits). So for every $100 that a store takes in, a store like Target  generally only takes away $2 in operating profit after paying for materials, keeping the lights on and paying employees. Retail is not usually an industry that will make you rich unless you unlock the key to lots and lots of sales.
So if the average flower shop is only making $450k in gross revenue, that means that they earn less than $10k in profit after paying all the bills (these shops would probably have owner/operator so owners are paying themselves and the $10k would be above their normal paycheck in profit that the business generated.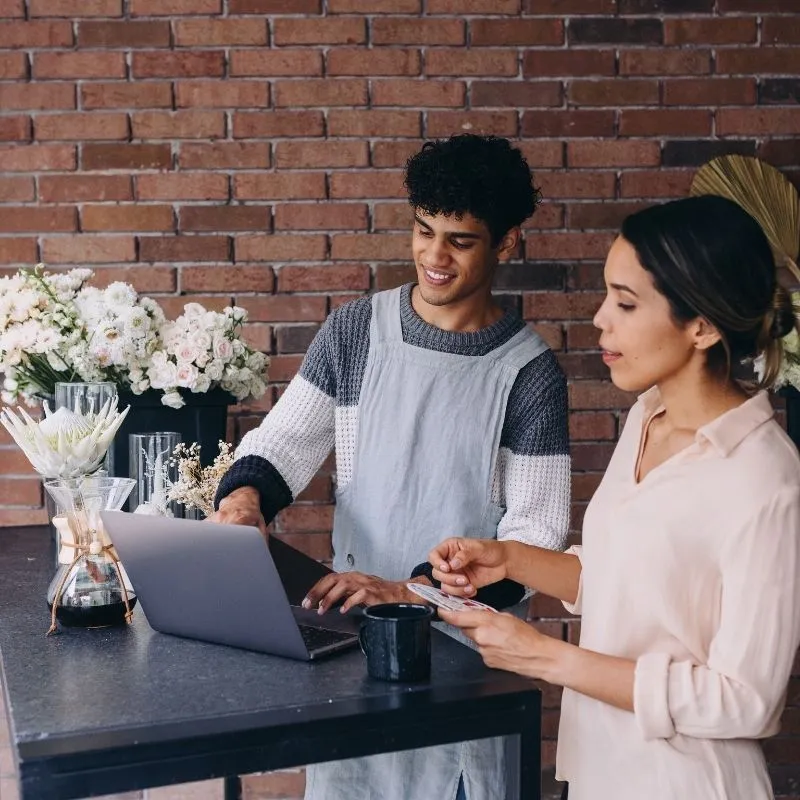 Let's compare that to owning a fast food restaurant. According to Chipotle's 2019 Annual Report, the average restaurant had gross revenue of $2.5 million. Again, assuming that 2% net profit on sales, owning a Chipotle would earn you $50k profit as an owner. According to the International Franchise Association, the average franchisee owns 1.6 units.
So you can see that owning and operating a flower shop is likely to generate below average profits as an owner.
But it can still be rewarding in others ways.
If you're looking for a career in a creative field, then a florist career may still be something to consider.
Florists are creative people who specialize in working with flowers and plants to create beautiful arrangements for their customers. Whether you're interested in working for someone else or starting your own flower shop, there are many aspects to this profession worth consideration.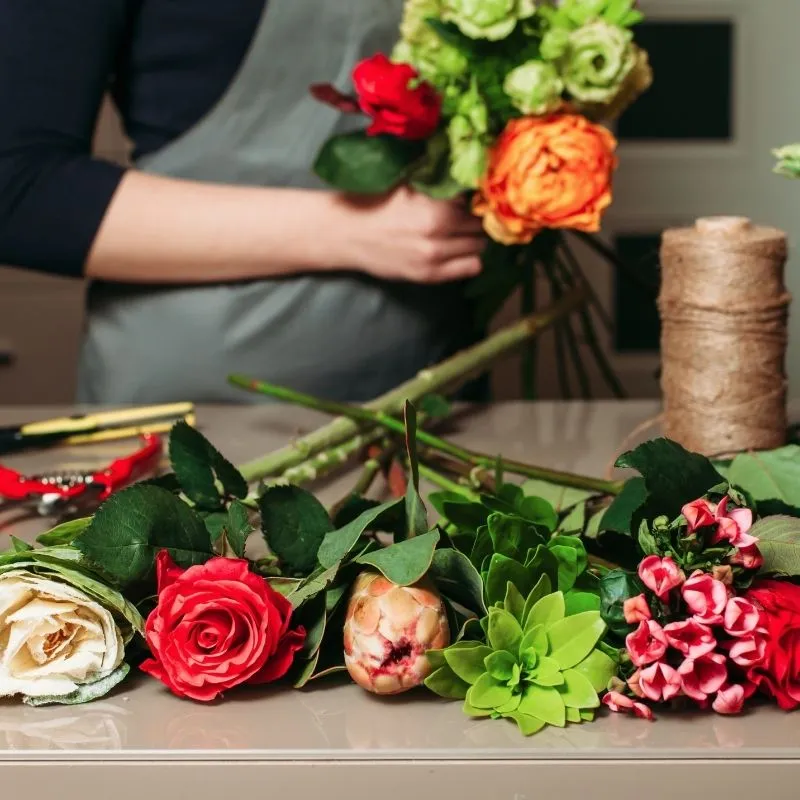 Average Salary Working for Someone Else
According to Salary.com, the national average salary for a floral manager is between $41,000 and $50,000 per year (this will obviously vary by city and the amount of experience someone has). The job duties of a floral manager usually include designing arrangements, ordering and maintaining flowers and plants, training and managing a staff of floral designers, setting up displays, and providing customer service. 
On a typical day, a floral manager might be responsible for setting up displays, creating and presenting design ideas, ordering flowers and supplies, training staff, and keeping track of sales and inventory.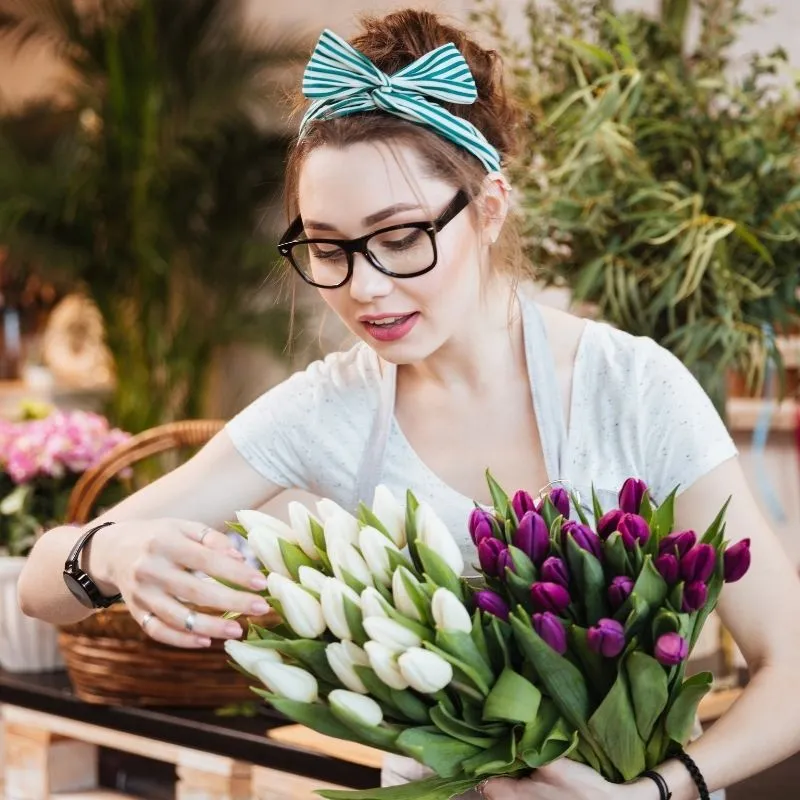 Learn To Be A Florist On The Job
A floral assistant typically helps to create and assemble floral arrangements, help customers select flowers and other products, and manage inventory. Pay varies depending on location and experience, but generally a floral assistant will earn between $10 and $18 per hour. Most employers do not require any formal education or experience, but knowledge of floral design and customer service experience are usually preferred.
What It's Like to Try to Start Your Own Flower Shop
Starting your own flower shop can be a difficult and risky venture. It's important to research the local market and understand what it takes to open and run a successful flower shop. A great place to start would be the small business administration. They can help you understand what it would take to get started, how much money you will need to invest, and they could try to hook you up with a mentor to help you start with confidence.
There are a lot of moving parts to opening your own flower shop. You'll need to secure a location and obtain the necessary permits and licenses. You'll also need to create a business plan and determine how you'll market and promote your business. In addition, you'll need to develop relationships with suppliers and have an understanding of the latest trends in floral design.
It's Not A Rose Garden Out There
Unfortunately, many flower shops fail within the first five years. The competition in the floral industry is tough and can be difficult to overcome (especially with online competition getting more crowded). It's important to have an understanding of the business and the ability to manage your finances in order to make your flower shop successful.
To really be successful in this industry you'll need to stand out from the competition and bring something to market others have not. If you can do that, put a unique spin on the floral industry, it could be a game changer for you and unlock more profit potential here.
What Is the Job Outlook Like Being a Florist?
The job outlook for florists is generally good. There will always be a demand for flowers as they are a traditional gift for birthday's, graduation, anniversaries and special occasions. While much of the floral industry has been disrupted by online sales that bypass local flower shops, there is still a demand for local shops to complement online sales as well. 
Would Being a Florist Be a Good Job to Avoid Being Displaced by AI?
Yes, being a florist is a great job to avoid being displaced by AI. Floristry is a highly creative field that requires an understanding of the aesthetics of flower arrangements. Artificial intelligence is not yet capable of replicating the creative process that goes into creating beautiful flower arrangements.
What Does Someone Who Is a Florist Do in a Typical Day?
The typical day of a florist can vary greatly depending on the type of shop they work in. A florist working in a retail shop may spend their day creating flower arrangements, helping customers choose flowers, and arranging deliveries. Those who work in a wholesale shop may spend their day taking orders, learning about new flowers and plants, and managing the inventory. In addition, they may also be responsible for researching the latest trends in floral design.
What's Being A Florist REALLY Like?
Starting a career as a florist can be a rewarding and fulfilling experience. It's important to understand the business side of the profession, such as the finances and the local market. You should also have an understanding of the latest trends in floral design and be creative and knowledgeable when it comes to choosing the right flowers and plants for each customer. 
With the right knowledge and dedication, you can make a successful career out of being a florist but you probably won't get rich in this profession. But if you love flowers, making customers happy, and have mad creative skills, looking at floral designer jobs may be a good career to help you feel fulfilled with what you do..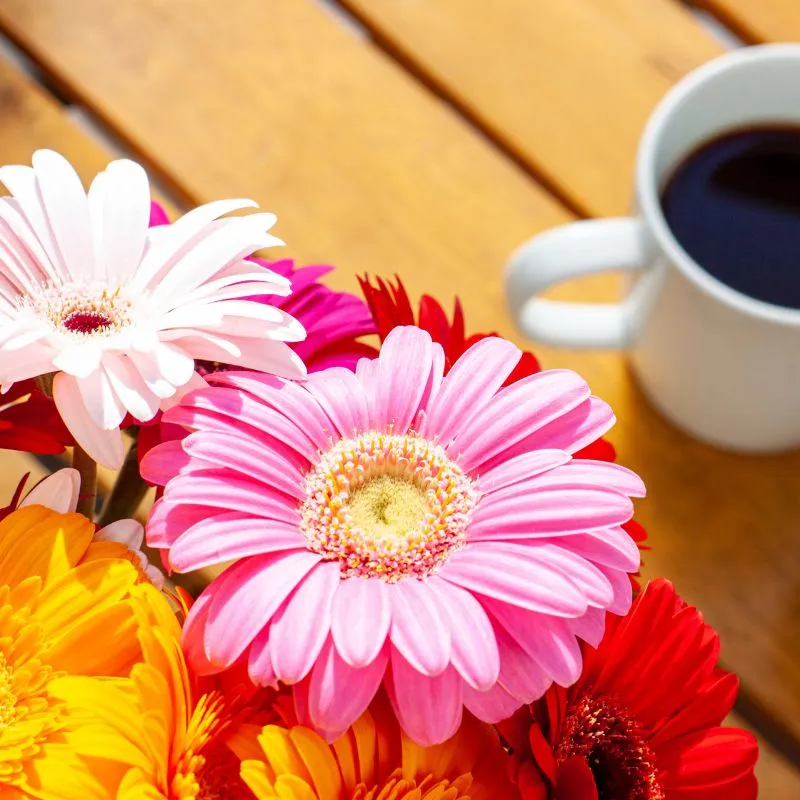 looking to practice your flower skills and want a better flower food? Skip the free packets...
Give Your Flowers The
Boost Of Caffeine

They Crave
Ordinary Plant Food Or Internet Recipes Won't Do it
Use Flower Boosters for the win.
Enhanced with caffeine, Flower Boosters gives your cut flowers an extra burst of energy and makes them live longer — and stronger – – than ever before.
Better than water alone, better than the free packets or internet folk recipes. Flower Boosters makes your cut flowers live their very best life!
Make Your Cut Flowers Live Longer & Stronger