Reinvent Your Fresh Cut Flowers To Dried Flowers
Save Money And Get Add Beauty To Your Daily Life
Flowers are beautiful, evocative, and romantic. They bring us joy and remind us of the beauty of life. 
While they are lovely to behold, they don't last forever. That's why learning how to repurpose fresh cut flowers<span< a=""> data-offset-key="95igf-71-0″> into dried flowers can help you get the most out of your blooms. </span<>
With a few simple tips and tricks, you can extend the life of your cut flowers and enjoy their beauty for longer. 
The first step in repurposing cut flowers is to make sure you are using the freshest blooms. 
Look for flowers that are still in bud form and avoid those that are wilting or fading. 
Once you've selected the best flowers, it's time to begin the repurposing process. 
One way to extend the life of cut flowers is to use a preservative and flower food. 
Most florists carry a variety of products that can help keep flowers fresher for longer (or you can try Flower Boosters from Amazon.com here). These products often contain an antifungal agent to prevent mold, a pH stabilizer to keep the water fresh, and a sugar substitute to provide the flowers with nourishment (and Flower Boosters goes a step farther than anyone else giving your flowers a boost of caffeine to boost their vitality).
Adding a few drops of the preservative to the water will help the flowers stay fresh and vibrant for days.
Another way to get more from your cut flowers is to mix them with other flowers. This is a great way to create interesting and unique bouquets at a fraction of the cost of buying a premade arrangement of the same size. You can mix different types of flowers, such as roses, daisies, and carnations, to create a vibrant and colorful display. You can also combine flowers of different colors, shapes, and sizes to create a unique look.
Turn Fresh Flowers To Dried Flowers
Finally, if you want to get the most out of your cut flowers, consider drying them. You can use a flower press or a simple drying rack to preserve the flowers. Once the flowers are completely dry, you can store them in an airtight container or use them in crafts and decorations.
Dried flowers look especially beautiful when used in wreaths, swags, and other arrangements. They also look great mixed in with your next bouquet purchase to make your flowers go even farther!
It's easy to do:
1. Gather your materials. To get started, you'll need a few basic materials. These include: fresh flowers, scissors, newspaper, a drying agent (such as silica gel or borax), a bowl, and rubber bands.
2. Prepare the flowers. Start by cutting the stems of the flowers to the desired length. You'll want to make sure to leave enough stem so that the flowers can be easily hung upside down for drying. Once the stems are cut, use a pair of scissors to remove any leaves or thorns from the stems. 
3. Create a drying environment. Place a sheet of newspaper on a flat surface. Sprinkle a thin layer of silica gel or borax on the newspaper. This will help to absorb any moisture from the flowers and speed up the drying process. 
4. Hang the flowers. Gather the stems of the flowers together and tie them with a rubber band. Create a loop at the top of the stems and hang the flowers upside down over the bowl. Make sure the flowers are not touching the sides or bottom of the bowl. 
5. Dry the flowers. Allow the flowers to hang for several days in a warm, dry area. You can check the progress of the drying process by lightly touching the petals every few days. Once the flowers are dry, they can be removed from the bowl and placed in an airtight container. 
6. Enjoy the finished product. Once the flowers are completely dry, you can enjoy them for many years to come. Dried flowers make great gifts, decorations, and keepsakes. Drying fresh flowers is a simple and easy process. With the right materials and a bit of patience, you can easily turn your favorite blooms into beautiful dried flowers. Once you've mastered the basics of flower drying, you can experiment with different drying agents, flower varieties, and drying techniques. Enjoy!
Repurposing cut flowers is a great way to get the most out of your blooms. With the right tips and tricks, you can extend the life of your cut flowers and enjoy their beauty for longer. From using preservatives to mixing flowers and drying them, there are many ways to repurpose cut flowers to create stunning displays and lasting memories.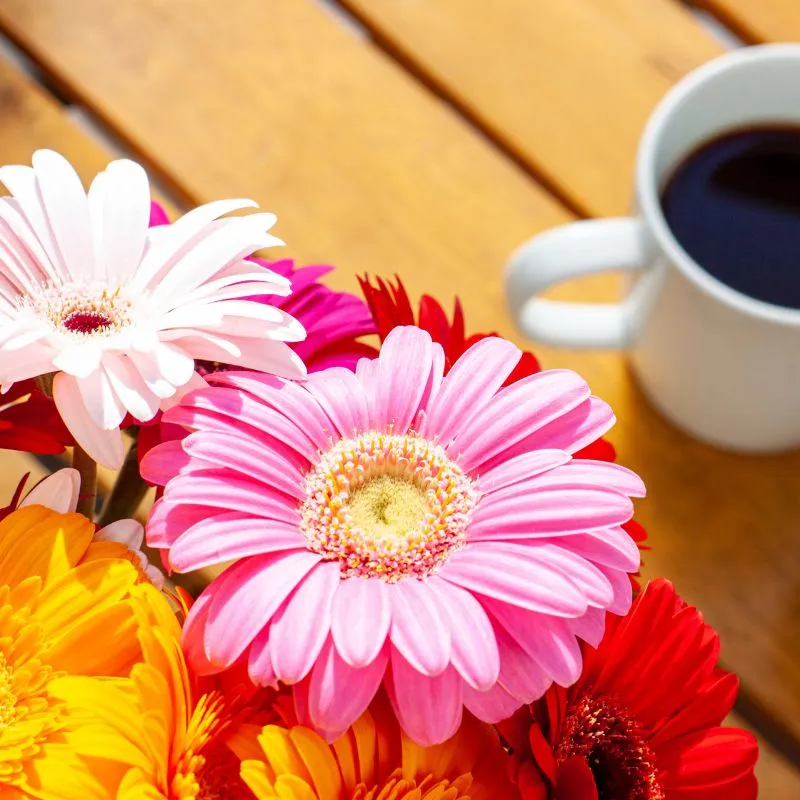 make cut flowers last longer
Ordinary Plant Food Or Internet Recipes Won't Do it
Use Flower Boosters for the win.
Enhanced with caffeine, Flower Boosters gives your cut flowers an extra burst of energy and makes them live longer — and stronger – – than ever before.
Better than water alone, better than the free packets or internet folk recipes. Flower Boosters makes your cut flowers live their very best life!
Make Your Cut Flowers Live Longer & Stronger